Why Dreams About Flying Are Important?
Dreams about flying may be the most popular dream among common dreams. This is because dreams of flying catch our interest even after we have already woken up.
Compared to other common dreams like dreams about being naked, dreams of falling, or dreams of being chased, flying dreams are not a representation of our daily lives.
Dreams of flying or floating are the kind of dreams where the person acknowledges that he or she is dreaming. This is since the situation is impossible to happen in our waking lives.
And once you realize that you are in the dreamland and take control of the flying dream, the dream is now categorized as one of the many kinds of lucid dreams.
Lucid dreams are when you are aware that you are dreaming. During lucid dreams, you take control of their actions and environment. Lucid dreams can occur spontaneously or may be induced by specific techniques. Some people believe that lucid dreaming can be used to improve sleep quality, boost self-confidence, and overcome fears. So, were you lucid dreaming in your dream?
A dream about flying often brings the feeling of joy, excitement, and a sense of freedom to you. The special and new experience of floating in the air makes the dream very pleasant.
But are there instances where a dream about flying brings stressful experiences? Or have negative interpretations? Read on to find the answer.
What Do Dreams About Flying Mean?

Flying in dreams can have different meanings. The elements of the dreams play a vital part in interpreting the message of the dreams. Dreaming about flying freely does not have a similar meaning to flying with many obstacles in your path. And dreams where you were having difficulty flying, signify a different meaning to that of being afraid while flying.
Dreams that have a flying theme are always subjected to a lot of interpretations. Personally, I think this is because the ability to fly happens only in dreams. But the feeling of having a superpower fascinates does not only fascinates the dreamer but as well as the dream enthusiasts.
Such a dream suggests a desire to escape from the stressful reality of everyday life. Or the dream could be inspired by a particularly exciting event or experience. In some cases, a flying dream might also symbolize a sense of freedom or liberation.
Whatever their specific meaning, flying dreams are often positive and uplifting. Most of the time, a dream of flying is associated with good interpretations. Dreams of flying generally mean you are free and empowered. You are at the top of your game and dominate the situation.
These dreams suggest a sense of lightness and joy, and can often be a sign of hope and possibility. So if you find yourself dreaming about taking to the skies, it may be worth taking some time to reflect on what your subconscious is trying to tell you.
How Did You Fly In Your Dreams?
To fully analyze and get the message of your flying dream, it is worthy to take a look at the details of your dream. Such as what were you feeling during your dream, or where is the setting of the dream.
1. You Were Having A Great Time Flying
In your dream you were enjoying your time, soaring over different beautiful views, having new perspectives, and experiencing serenity. This means that you are at a good point in your waking life. Everything is in order according to your plan. Such dreams also mean that you are currently in control of your daily life.
In your dream, you are flying above everything else, enjoying the lovely sights, and completely in charge of where your destination is. You are reflecting on your dream and your daily life situation. This means you are above the situations or people. You are enjoying what you are doing and you are in control.
This is a nice dream.
2. You Were Having A Difficulty Flying
When in your dream about flying you are having trouble remaining in the air, it means that you do not have control over currently in your real life.
This negative type of flying dream includes the scenarios of you are having trouble flying, you are starting to fall and you cannot even take off. Your dreams represent how powerless you are in your circumstances.
Your unconscious self is telling you through your dream to take a step back and assess your current predicament to see where you can improve.
You need to look for a new motivation to keep you in the "air." By finding a reason for you to stay up, you will be able to boost your own confidence.
This newfound strength will then support you in reaching your goals.
3. You Had Barriers In Your Air Path
There are times in dreams of flying when you encounter obstacles in your air path. Such as powerlines, tall buildings, trees, and mountains. These things are manifestations of the obstacles in your real life situation.
For instance, when you have a goal of being promoted, your roadblocks may be increasing your sales or productivity metrics. Instead of fearing these barriers, take them as new opportunities and make the best of them.
Just like in such dreams, you could keep yourself afloat in the air by not being distracted by the other things you see. You need to put your full focus on your target. By doing so, you soon pass these barriers and reach your destination.
Your dream is telling you that you are very capable, just do not take off your sight on the target and be bothered by the obstacles in your surroundings.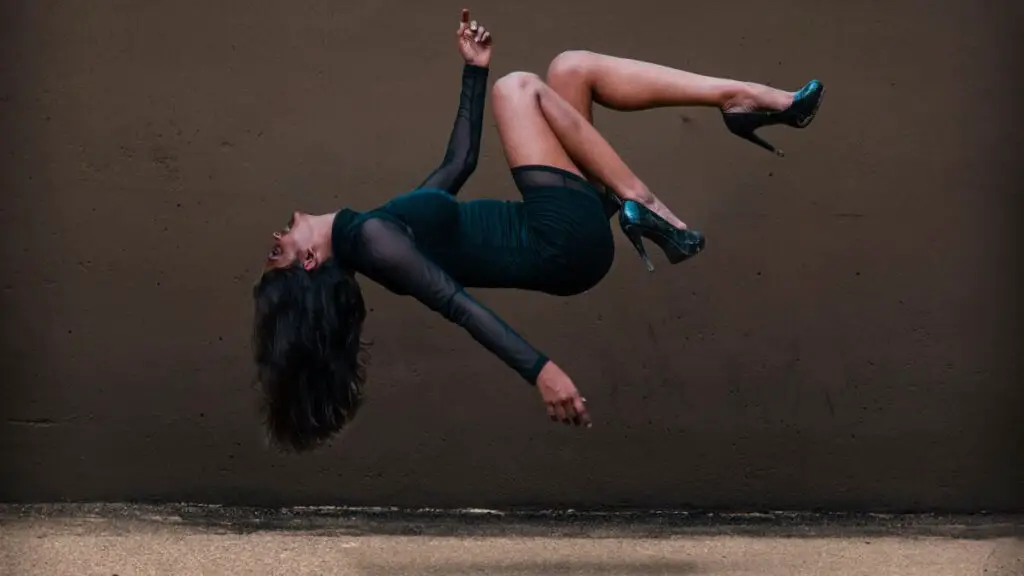 4. You Lacked Confidence Flying
There are instances in your flying dreams, you experience fear while in the air. You feel afraid because of the height and the possibility of falling.
This dream represents your fear of taking a challenge in your real life. You have this fear of venturing outside your comfort zone.
In your dream, although you know how to fly and there is nothing wrong with your wings, you still lack confidence.
You need to give yourself some credit and start trusting your abilities. By doing so, you will soon enjoy your flight and the breathtaking view from the top.
5. You Were Flying Freely
In most cases, a dream of flying represents freedom. A sense of freedom from your usual surrounding, routines, problems, and fear.
This dream can mean that you have liberty in your real life. More importantly, your dream indicates that you are confident and in control of your life… and you are enjoying it!
6. You Were Being Held Back
Did you dream that you wanted to fly, but you were held back by something? Your dream means that something is hindering you to reach your target destination.
For example, your goal is to be healthier. But you refuse to give up some vices like too much smoking and drinking alcohol.
For you to take off, you need to let go of these weights that are holding you back. Or else, you will never experience the feeling up there and reach your destination.
7. You Stopped Flying While In The Air
If in your dreams, you suddenly stopped flying and started falling, this means that you are giving up on something.
This is not entirely a negative dream. It depends on what you are giving up in your waking life. Is it something worth it? Will it bring improvement to your real life? Will it bring happiness?
Review your view in your dream. Was the view from the top better than the one from the ground? Which setting brought you more happiness and peace?
Only you can tell.
8. Dream Of Flying Low
Flying dreams usually represent feelings of freedom and liberation. However, dreams in which you are flying close to the ground or water can be interpreted differently.
These types of dreams often indicate that you are facing some sort of obstacle or challenge in your waking life. The obstacles may be physical, such as an illness or injury, or they may be emotional, such as relationship problems or financial stress.
Whatever the obstacle may be, it is important to remember that you have the power to overcome it. The next time you have a dream about flying low, take it as a sign that you need to take action and push through whatever is holding you back.
9. Dream Of Flying High
A dream about flying high can be interpreted in a few ways. One possibility is that you are feeling unprepared or out of your depth in some situation. Alternatively, it could represent your aspirations and ambitions for personal growth. To fly high in your dream may also symbolize freedom from negative emotions or problems in your waking life.
If you felt scared or anxious while flying in your dream, it could be a sign that you are avoiding something or are afraid to face a challenge. On the other hand, if you felt free and exhilarated, it may indicate that you are confident and ready to take on whatever comes your way.
No matter what emotions you experienced during the dream, it is important to remember that its meaning is unique to you and only you can determine what it signifies.
9 Common Dreams About Flying And Their Meanings
Dreams About Flying In A Plane
You got to be a pilot for a night! Why are you still searching for its meaning? Kidding! Behind the good feeling, it brought, what is the attached message of dreams where you are flying in a plane?
Airplanes in dreams symbolize an elevation of status, influence, and power. Airplanes in dreams are encouraging dreams. (But of course, dreams of them crashing are not included.)
A dream about flying in a plane suggests absolute control of your life. You are not only above the situation but you are in a prominent level of elevation.
And if in your dream you are the pilot of the flying plane, it means you are self-assured about how your life is going. You exactly know where you are heading, and have a concrete plan on how to reach your destination.
Dream Of Flying Over Water
Water in dreams most of the time symbolizes emotions and feelings. And how you see the water in your dream, such as its clarity and what you felt seeing it, reveals the meaning of water in your dreams.
In the context of your dream about flying over water, it means you are being made aware of your emotions in your waking life. May it be calm, clear, fresh, tidal, or stagnant. By flying above the water, you were able to have a thorough point of view of your feelings and emotions.
Dreaming Of Flying Like A Bird
Dreams about birds generally mean freedom and transcendence. Have you ever heard of the phrase, "free as a bird"? It means that you are completely in charge of the situation and have no whatsoever worries.
This is also what dreaming of flying like a bird means. You are enjoying wherever you are right now in your life. You have your personal freedom in your actions and decisions.
Dream Of Flying Away From Danger
Having a dangerous dream is not a pleasant experience at all. Yet there could be times that in our dreams that we escape these dangerous environments. For instance, you can just fly or disappear away from danger.
Dreams of flying away from danger have many dream meanings. One is that this dream can reflect your wanting of overcoming your anxieties in life. You have recognized the negative effects of your fears and anxieties in your life.
Flying away from danger could also be your unconscious mind giving you a warning. Your dream is putting you in a better position – away and above the danger. Something might happen to you in the future; You need to brace yourself and plan your actions well.
Dreaming Of Flying With Someone
Dreams about flying with someone can be interpreted in a few ways. If you have positive feelings about the person you're flying with, it could symbolize unity and a strong bond between you too.
Alternatively, this dream could also represent your independent nature and the desire to explore on your own.
If you feel anxious or scared while flying with someone in your dream, it could be a sign that you're not ready to commit to a relationship or that you're afraid of being dependent on someone else.
Whatever the case may be, take some time to reflect on your feelings and see if there's anything in your waking life that this dream might be mirroring. Consulting a trusted dream dictionary can also be helpful in understanding the symbolism behind this type of dream.
Dreams About Flying Cars
Dreams about flying cars typically symbolize our desire for freedom and independence. On a more literal level, they may be a sign that we are feeling trapped or restricted in our current situation.
The flying car may also represent our wish to break free of the constraints of traditional modes of transportation. In some cases, the dream may be a metaphor for our career or business goals. We may feel like we are stuck in a rut and need to find a new way to move forward.
Moreover, the flying car could be a sign that we are ready to take a leap of faith and pursue our dreams. Whatever the case may be, dreaming about flying cars is sure to leave us feeling inspired and motivated to achieve great things.
Dreams About Flying And Falling
Dreams about flying and falling are some of the most common dream themes. They usually occur during the Rapid Eye Movement (REM) stage of sleep, when we are most likely to dream vividly.
Dreams about flying often represent a sense of freedom and independence. They can be positive, representing a feeling of accomplishment or success. Alternatively, they can be negative, reflecting a fear of failure or a lack of control.
Dreams about falling often have a similar interpretation, symbolizing a fear of loss or a sense of vulnerability. However, they can also represent a physical or emotional descent into a darker place.
Whether flying or falling, these dreams often leave us feeling anxious or disturbed. However, they can also be interpreted as positive signals from our subconscious mind, urging us to take action in our waking life.
Dreams About Flying A Helicopter
Dreams about flying a helicopter can be interpreted in a number of ways. Sometimes, they represent our desire to achieve something difficult or seemingly impossible. Other times, they may indicate our need for assistance in overcoming a challenging situation. Helicopters are also often used in dreams as a symbol of power or control.
If you find yourself dreaming about flying a helicopter, ask yourself what you are hoping to achieve or escape from in your waking life. What challenges do you currently face that seem insurmountable? Are there people in your life who make you feel powerless?
Consider what it would mean to have the ability to rise above your current circumstances and view them from a different perspective. In many cases, dreams about flying a helicopter can offer valuable insights into our lives and how we can best navigate challenges.
Recurring Dreams About Flying
Dreams about flying can be interpreted in many ways. They may represent your desire for freedom or independence, or they may be a manifestation of your fear of change or the unknown.
If you frequently have dreams about flying, it may be time to take a closer look at your life and see if there are any areas that need attention. Are you feeling trapped in your current situation? Are you longing for more adventure? Or are you afraid to take risks?
Only you can answer these questions, but understanding the meaning of your dreams can help you to better understand yourself and what you need in your life.
What Does Flying In A Dream Mean Spiritually?
Flying In A Dream Biblical Meaning
A dream about flying is a metaphor for empowerment, achievement, and accomplishment in the Bible. It represents your ability to deal with any difficult situation with ease, as well as your free spirit and independence.
You are unbreakable because of the presence of the Holy Spirit within you; you are spiritual and powerful. The divine is nothing out of the ordinary for a child of God.
The devil does not have human abilities. He only activates the powers of those who submit to him and then uses them to carry out his evil plans. Because of this, many Christians experience spiritual weakness and helplessness in their dreams.
The biblical meaning of flying in a dream is spiritual strength for a Christian who is filled with the Holy Spirit. The presence of skill in one's dreams indicates a spiritually healthy state.
A spiritually weak person cannot be overcome by any attacks in a dream, let alone flee or ascend to the heavens. Christian believers can run faster than the speed of light or even soar in their dreams if they are empowered by God's Spirit and strength. This dream is a spiritual awakening, and it is imperative for you to act upon it to recover your faith's health.
Dream Of Flying Meaning In Islam
Flying dreams are often seen as a positive sign, representing freedom, liberation, and ascendance. In Islam, dreaming of flying can also be interpreted as a sign of spiritual ascension, growth, and advancement.
A flying dream often indicates that you are about to embark on a journey of self-discovery or enlightenment. This could be a physical journey, such as traveling to a new country, or an internal voyage of exploration.
Regardless of the specific interpretation, dreaming of flight is generally seen as a positive omen. So if you find yourself dreaming of taking to the skies, it might be time to start planning your next adventure.
Dream Of Flying Meaning In Chinese Culture
In Chinese belief, dreaming of flying is a sign of good luck. A flying dream represents your desire to be free from their current problems and circumstances.
The dream may also be a metaphor for your aspirations and goals. In some cases, dreaming of flying may be a warning from the subconscious mind to watch out for danger or difficult times ahead.
However, overall, dreaming of flying is considered a positive symbol. It signifies your ability to rise above your challenges and achieve your goals. flying in dreams often has positive connotations in Chinese belief.
It is seen as a sign of good luck and signifies your ability to overcome their challenges.
Dream Of Flying Meaning In Hinduism
In Hinduism, dreaming of flying is often seen as a sign of spiritual progress. Dreams have long been seen as a way for the soul to communicate with the body, and flying is often seen as a metaphor for the soul's journey.
Flying dreams may represent a desire to break free from earthly limitations, or a yearning to reach new heights. In some cases, they may also be a warning from the subconscious mind to pay attention to something important.
Whatever the case may be, dreams of flying usually carry positive connotations in Hinduism and are often seen as an auspicious sign.

Conclusion
Flying dreams can be interpreted in a number of ways, depending on the context and symbols in the dream. In some cases, flying may represent the feeling of freedom and liberation, which is a good thing.
They can indicate a desire to break free from limitations or constraints, or a need to explore new horizons. The dream gives you a broader perspective and shows you much more options aside from what you think you have now.
Whatever their specific meaning, flying dreams often inspire a sense of hope and possibility. So if you find yourself dreaming of taking flight, it may be time to let your imagination soar.
Flying dreams are fun. You get to be a superhero, even just in your dreams. But your dream has something to tell. Go through the details in your dreams, and try to match which among those above is the interpretation of your dream.
But more than that understand what exactly your dream wants to tell you. Then you can act accordingly and lead your life in a positive direction.
Have a safe flight…. more importantly, land safely!